THE ROOM was dark, the seats were hard, the drinks were ice cold.
The people were eager, impatient, excited and ready to roll.
And out of nowhere, came the Compare with a mic in his hand.
He belted out a 'Hello' and welcomed us to the show with a bit of stand-
up comedy…
Unlike the pop up poetry performers, my rhyming skills are limited so I'll stick to my usual conversational tone and save the embarrassment.
4Talent award winner Luke Wright compared and performed a selection of poems from his new book 'High Performance.' His use of pun, whit and comedy weaved throughout his very intriguing  storytelling. It's amazing how the lives of ordinary people and grey places like Chip Shops can turn into a Chaucerian-prologue-rhyming couplets-type thing: Very impressive.
Laura Dockril took us to the theatre! She ensured we were all awake (and a tiny bit frightened) with her very loud, extremely vibrant, beautifully dramatized works. She had us sitting at the edge of our seats.
Finally, Kate Tempest strolled on and tricked us! Said, she wouldn't be very loud and charismatic due to a sore throat but that was far from what we experienced. She belted out her poetic social commentaries in the form of emceeing. She had us all giggling at jokes (she didn't intend to make). Tempest was a glittering piece of inspirational talent. It's no wonder she was chosen to take the jam packed event to the finishing line.
We look forward to the next show on 7th July and we look forward to seeing you there.
For more information visit www.southbankcentre.co.uk/udderbelly.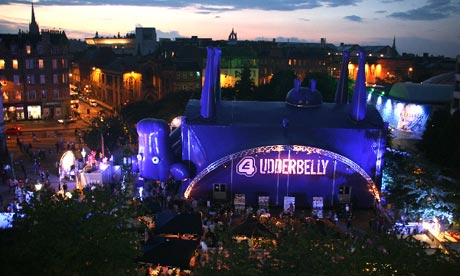 Filed under: London Literature Festival 2009, Poetry Library | Tagged: Comedy, Emcee, Literature, Poetry | Leave a Comment »